Steven Universe
, on the back of the car. Also, the car was from out of state.
Garnet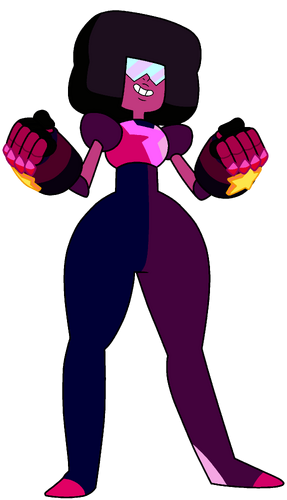 I haven't watched much
Steven Universe
, but I've really enjoyed the few episodes I've seen. I felt warmly toward that car. Then, coincidence of coincidences, it turned into the post office parking lot too. "Wow, someone from New York is going to the post office here in B'town," I thought, and also, "I can tell them how much I like their Garnet sticker." I followed the driver into the post office. They got in line; I had to fill out a customs form, so I was standing nearby.
"Excuse me," I said.
"Oh!" they said, startled, and made to get out of my way.
"No, no--you're fine! I just wanted to say, I really like your Garnet sticker, on your car."
"Oh!" they said again, but a pleased and happy one this time. "Thanks!"
Then it was their turn at the counter. On their way out they smiled at me and said goodbye.
I had no clue what gender, if any, they were, but they inhabited their skin and their space with a pleasant, easy charm. They looked more or less like this:
This entry was originally posted at
http://asakiyume.dreamwidth.org/862517.html
. Comments are welcome at either location.
I was driving to the post office, and I noticed that the car in front of me had a sticker of Garnet, from